Along with the recent floods of positive press Chile has been experiencing (see here and here), yet another study has been published that highlights Chile as the best in its class in terms of investment opportunities.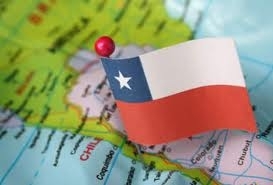 This particular article comes from the online investment site Seeking Alpha, stating that despite being, at times, cast behind the shadow of popularly growing Brazil, Chile hold its ground in a wealth of investment opportunities for today's global investor.  Having one of the richest exportation cycles doesn't hurt either.  Chile's highly demanded commodities (copper, wine, minerals, fruit + veggies, to name a few) have kept it gainly afloat, and buoyed by ever increasing global demand.  Not to mention a $37 billion USD planned investment in the mining sector before 2018.
As was measured by the Global Competitiveness Report, Chile ranks #1 among its Latin American peers as complimented by the following graph and, since March, has been augmented by the wide corporate tax decreases (boasting the lowest rate in Latin America) imposed by the newly installed government :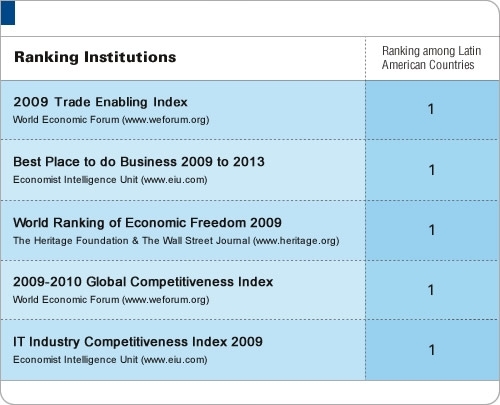 Other factors contributing to Chile's strong investment potential stem mainly from its economic stability and transparent regulations, along with various incentives such as the Research and Development Tax Credit, which has attracted over 200 institutions and businesses to participate in biotechnology within this relatively small country of 16 million.
For foreign investors seeking to diversify their holdings with Chilean stocks, there are more than 14 Chilean companies listed on US Stock Exchanges from LAN Airlines, to Viña Concha y Toro, to the Banco de Chile.  And for the more risk averse investors, Chile can still be a very prudent investment option via the Aberdeen Chile Fund that is a closed-equity fund seeking total return by investing in, primarily, Chilean securities.  Its range is 19.75-19.89 with a market cap of 201.94 million and 10.2 million shares.
Finally, to investors Chile become even more attractive with their open and diverse trade economy.  It is the nation that holds the world record for number of free trade agreements signed thus providing unprecedented access to 86% of the world's GDP, and, as a free trade holder with China, approximately 92% of its exports are tax free.
And now, through the various venture capital firms, angel investors, and business incubators, foreign investors can roll their dice in investing in Start-Up Chile projects that will be seeking capital from Chile's esteemed and extensive investment firms.
For for information on this topic, please contact stgo@startupchile.org.